Lawn Works - Lubbock, Texas Sprinkler Repair & Tune-Up Specialist
Sprinklers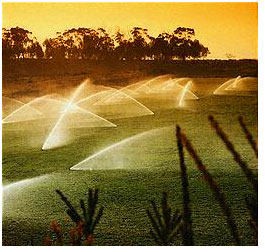 Lawn Works is one of Lubbock's leaders in quality design, the installation, repair, and service and of underground automatic sprinkler irrigation systems.
From complex system installation to the most basic residential sprinkler system, Lawn
Works provides quality, state-of- the-art irrigation systems. Our system design and commercial grade product combined with proper installation assure you a carefree watering system to beautify your turf and shrubs whether home or away. Nothing can do as much to insure the continued prospering of your landscape, as well as minimize maintenance time and costs, as a sprinkler system that has been properly designed and installed.
Drip Systems
A drip irrigation system will help you deliver water more efficiently, thereby saving you time and money. Drip emitters generally apply water more slowly than a sprinkler system, making them perfect for slopes or hilly areas because there's less runoff. Drip systems are also good if your water pressure is low. They work best at pressures under 30 psi (pounds per square inch). Finally, they're less expensive to install than an underground sprinkler system, and are easily altered as your garden grows.

Drip irrigation can easily be installed on sites with large undulating slopes. It can be installed without disturbing the site as much as trench or bed construction does.
A properly engineered and managed subsurface drip irrigation system using reclaimed water offers many advantages over conventional disposal methods it minimizes health risks associated with exposure to reclaimed water by distributing the water below grade. It directly applies the water to plant root-zones and achieves a more manageable balanced water distribution throughout a relatively shallow soil profile.
Drip irrigation systems are considered when high groundwater, shallow soils slowly permeable soils or highly permeable soils are present at the site or when water conservation is needed.
Our competence in design and proper selection of commercial grade product assures you a carefree watering system that will beautify your turf and shrubs for years. If you have an existing sprinkler system we can also renovate or upgrade it, making it operate at peak efficiency. We can automate your system so that it won't run during a rain storm or when the weather conditions are too cold. Please feel free to contact us at any time.

We Service All Problems and All Brands
Repair broken pipes or fittings
New sprinkler installation
Repair or replace sprinkler timer (Clock)
Sprinkler Winterization
General detailed inspection and tune-up
Repair or replace broken or inoperative sprinkler heads
Add new sprinkler heads or entire zone(s) of sprinkler heads
Diagnose and repair low pressure problems
Leaks found and eliminated
Repair lighting damage
Detect and repair cut wires
Locate, repair or replace solenoids valves
Install, repair or replace automatic rain shut-off
Grading
Lawn drainage
Check system for coverage and operation of all heads and zones
Lic # LI0013381
Call us at 806-241-7800 or fill out our online contact form.